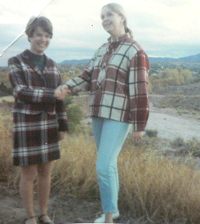 It's possible that the reason I was able to hitchhike all over the United States when I was young, was that I wasn't beautiful in a way that created a desperate desire to possess me.
Or, I suppose the way I prefer to think of it, is that my idealism protected me. I'm the tall one in the picture, looking up into the sky and believing in all that's beautiful and good.
It's not to say that I didn't think about how I could get killed while I was hitchhiking. I thought about my chances of coming in contact with a psychopath who would kill me, and I decided my chances were pretty similar to those of flying to my destination and being in a plane crash.
Nevertheless before I set out from Madison on my first adventure, I went to a priest's home, since it was past the regular confession hours, and made my confession so that if I was killed, or died in an accident I would go straight to heaven.
I also went to a showers area in some part of the university and had a shower and washed my hair. Without a towel I dried myself as best I could using the shower curtain. I loved the dim light, the warm water, the continuity of clean.
When Jay and I set out and I told him I had friends in Haight Ashbury, he was major impressed. I, on the other hand, had never heard of Haight Ashbury. Jay, Me and a Dime ~ Read more.
One of my favorite memories is sleeping on a chair in an apartment in Haight Ashbury, covered with my quilted robe. It was red and white in this tiny print of flowers and vines. It was so pretty. In any case, I would wake up in the morning and find this Hells Angel standing near by, guarding me. I mean, really, isn't that ever a lovely memory?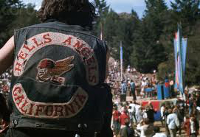 I suppose in part I was being guarded because I was a virgin, though I never mentioned it. I think it somehow showed in my idealism. I think there was a way in which I appreciated people without a sense of sex and the pleasure of passion.
I am reminded of the Mount Tamalpais Rock Festival where the Hells Angels were in charge of Lost Children. Or else that was at Monterey. But I think it was Mount Tamalpais. That was before I met the Hell's Angel who would guard me.
I remember being hungry at the festival and wondering what I was going to do without money.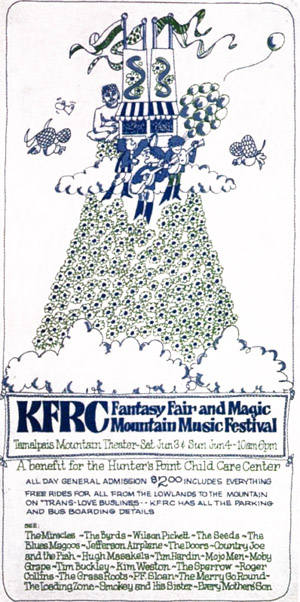 There was a stall where the Knights of Columbus were grilling and selling hamburgers. Basically, the festival was to raise money for a good cause, which was a children's center.
In any case, I asked one of the men whether, if I told them that my grandfather was a charter member of the Knights of Columbus in Stevens Point, where I came from, could I and my friend Jay have hamburgers, even though we didn't have any money? He said yes. So, we had these really wonderful hamburgers.
What's my point? Overall, I think that the majority of people long for the ideal. I think that when we dress in a way that inspires them to think of the ideal, that they are likely to want to protect us and their own need for the ideal.
To this end, I think it's good to choose clothes that look good. Good in the true meaning of the word.
There are times when clothes that look sexy are a better choice, for certain occasions, but generally, looking Good, is the best choice. It can help create good memories. It can contribute to good experiences because looking good calls to mind our ideals.
Because of my many excellent and wonderful experiences I was unprepared for the opposite side of the coin, where people in power, the authorities, have lost sight of ideals and do incredibly harmful things without seeing the good in you or the bad in their actions.