I have wanted to be a writer ever since I can remember. Before I went to kindergarten I used to copy the Polish newspaper, which I didn't understand, in order "to write." When I was in grade school I would practice writing the beginnings of stories, "It was a dark and stormy night. The wind wailed through the trees." That sort of thing. In reality there was so much I didn't know that beginnings were all I could manage.
My mistake was to link dark and stormy with beginnings.
This is me, Karen Kline
This is me, Karen Kline, in the Sixties: idealistic Cultural Committee Chairman for the University Center Board when I was in University at Stevens Point. I was voted Chairman of the year, primarily because of my knack for getting people to work together. For instance I had really great meeting attendance because I'd asked some of the most talented senior guys to be on my committee, and a lot of the cute freshman girls.
My mother was against me going to college so grad school wasn't likely, though Stanford had replied somewhat positively.
Professor John Zawadski, head of the Philosophy Dept, who wanted me to go to grad school, took an interest and made me go to interviews for after graduation jobs.
I took a job with AT&T in management training in "Traffic" — that is, operators answering calls back in the days of switchboards.

This is me in front of a beautiful sliding door in the apartment I rented in Green Bay, in the hay days of the Lombardi Green Bay Packers.
My friend, Claudis James, played for the Packers. When a blizzard stopped Greyhounds from running, he was going to drive me home to Stevens Point for Christmas. My mother said she didn't want me home for Christmas if I was coming with a black man.
That was a changing point in my life: on that Christmas Eve I decided not to remain a virgin. I'm SO GLAD I made that decision, else my life would have been barren. (I had decided in high school that I didn't want to marry.)
Aunts, Grandparents, Cousin and Mother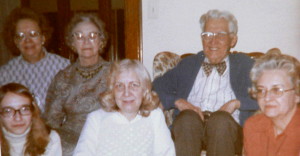 Aunt GiGi (Virginia Stark, oldest of grandma and grandpa's three children) is upper left. Next to her are Grandma Martha and the almost always smiling Grandpa Ambrose, who had named his grocery The Square Grocery because, he said, he was fair and square.
In front at the left is Annie Skalski for whom I used to babysit. In the middle is my mother, who was also the middle daughter. On the right is Aunt Bunny, Bernice Skalski, who was youngest and always wrote me the most lovely letters when I lived in London. She was talented in art, had taught home economics, and used to sew clothes for me. When she gave me her old clothes my mother was furious, but I was delighted.
Grandma and Grandpa's dining room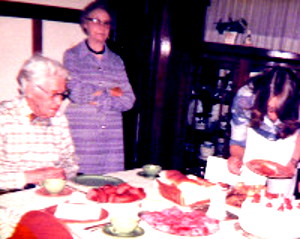 Grandma and Grandpa's dining room with its dark wood trim and glass fronted display cabinets was beautiful.
Grandma always made rolls. She didn't allow me to help. I think, now that I've been to France, that what she made was brioche.
The reddish plate, center front, looks as if it holds the obligatory Jello. For some reason Jello was an essential part of any family feast.
The last time I ate with my family in Grandma and Grandpa's dining room was Thanksgiving, 1972, when I was carrying Miguel. I didn't tell anyone.
Family ~ Old and Young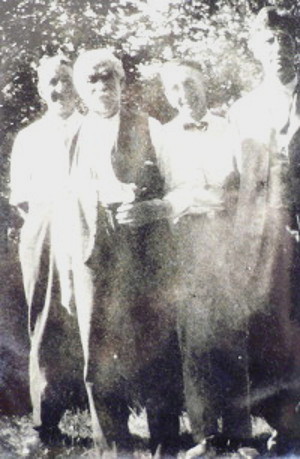 Grandpa Ambrose, when he was a young man, is tall and on the right.
Grandpa Ambrose's father, my great grandfather and Miguel's great great grandfather, Wilhelm, is second on the left. Wilhelm was born on May 28 1840, in Poznan, Germany-Poland.
Wilhelm was a farmer.
The other two men are Hopka cousins through Wilhelm's wife's side of the family.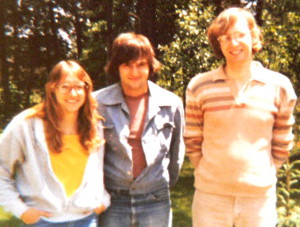 Ann, Gary and John are Bunny's kids. I used to walk Annie for hours when she was little. Bunny paid me and I used the money for school, clothes and things.
Ann worked with the environment, the last I heard ~ which is pretty long ago.
Gary looked a lot like his dad, Ray.
John Skalski was a forest ranger before going on to become a statistician. Read more.
Bunny died very young. Ray died not that many years later.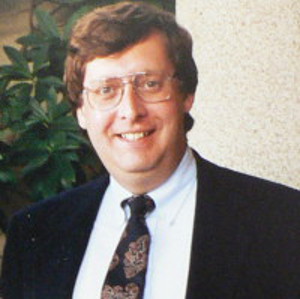 The last time I saw my cousin John Skalski, many years later, was in Seattle when I was visiting a friend, Marcia Mueller.
He took me to lunch at Ray's on the wharf, where the seafood was excellent. As we were leaving I or he knocked over a glass of water and he caught it before it could descend into shards on the floor. People at other tables actually applauded.
Super Bowl Bound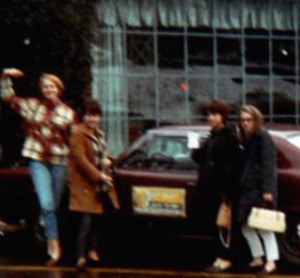 A blizzard blanketed southern states on our way to the Super Bowl, the January after I worked at the telephone company. It was Vince Lombardi's last big win.
Upper management had asked me one day if I liked my job. I had replied that I hated it. I was given severance pay, and that was it. (I had been extremely sad after losing my virginity.)
You can see how much taller I was than most.
Hitchhiking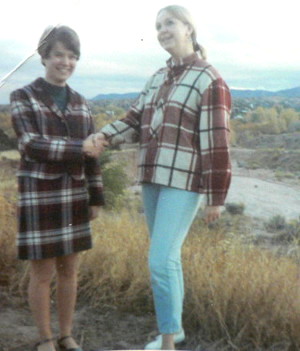 Posie Oertel (now Mary Kirschner) was saying good-bye to me and wishing me luck as I set off hitchhiking from her rented house in Tesuque, New Mexico. My white tennis shoes were, I felt, sure to show prospective rides that I was a good girl, and would therefore keep me safe. Apparently it worked.
I was hitchhiking because I wanted to be a writer and Jim Sprouse, who also wanted to be a writer hitchhiked. In fact, he reported meeting Jack Kerouac while hitchhiking.
I, on the other hand, met a relative of Judge Learned Hand. I think that's the very best I did in the hitchhiking-meeting-department. Next best was a relative of Guy Lomardo.
My Grandfather Kline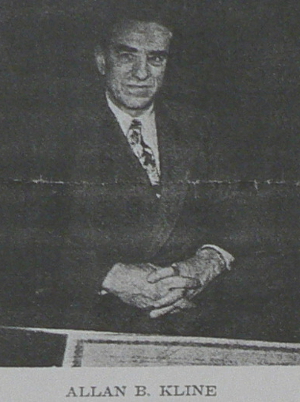 When I moved from Santa Fe, New Mexico to Monterey, California in the 60s I found a room in a home with a lovely yard that sloped toward Monterey Bay. I rented it. My first night there, the first time I'd been alone, away from friends entirely, I bought a newspaper. All my life my mother had said I ought to read the paper, which advice I had mostly ignored.
Alone in my room, I picked up the paper and there, in a small article on the front page was a notice saying Allan Blair Kline had died. He was my grandfather. I kept awake all that night, somewhere near the ocean, where I could hear the constant crashing of waves, in honor of him.
I had not known him well, though I had asked him to borrow $500 to buy a car when I was in University, and he had lent me the money in an agreement of my suggestion that I would write to him every month and send $50 toward repayment with my letter.
When I was graduating and the last payment was due, he said he couldn't come to my graduation because he was giving the Commencement Address at Columbia, I think it was, and he said I didn't have to pay the last payment. (I think Grandmother Kline's sister, Laura Shaw, had graduated from Columbia.)
Grandmother Kline's sister had run a school for kids who had difficulty learning, and my father had been sent to her when he had not been able to adapt to school as well as his older brother, Robert, and younger sister, Winifred. My mother, who admittedly was bitter after he deserted, said that the three children had not spoken any known language when they went to school, that they had their own language because their parents were too busy on the farm to talk to them, and too eager for the bedroom at night.
My grandfather bequeathed his Iowa farm, called Wellaway, to Robert, I forget what he left Winifred. He left $30,000 each to my brother and me, held in trust with my grandmother till her death, with my father being taken care of as he had been whenever he needed help. Basically, my father had deserted us. After he was picked up by the police, early on, and held, my mother dropped desertion charges after my grandfather said he would send my mother money every month.
Ferro-cement boat in the desert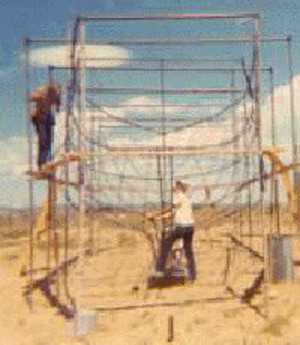 Early in the Seventies, before I got pregnant, I was helping Richard Morse, hydrologist for the New Mexico Highway Department, build a Ferro Cement boat in the desert near where the Santa Fe Race Track is today.
I did the oxy/aceteline welding. (I wanted to be a silversmith, so it was a little off the mark.) That's me in the center of the photo.
Me and Marcia with the Fresh Stuff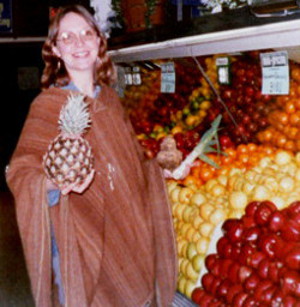 Years later when I was eight months pregnant my friend Marcia took this picture of me while we were grocery shopping.
I stayed with Marcia in Oshkosh, Wisconsin while I waited for my passport so I could move to London. (I also stayed with Jim Sprouse and Jenny.)
My glasses were the kind that get darker in bright light. When Miguel was a baby he "posted" them into the dust bin, which I emptied before I realized my glasses were missing.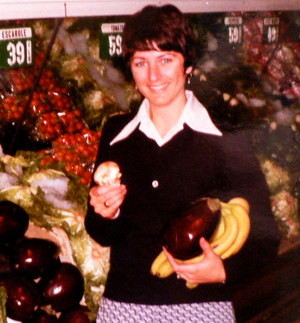 My friend, Marcia Mueller, was going to university in Oshkosh as well as working at the telephone company. She was in love with a helicopter pilot whom she married. He'd been in a James Bond film as a helicopter pilot ~ a charismatic, strong guy.
Later she was Chief Operator at the telephone company in Stevens Point. Chief Operator was a Very Big Deal.
The Loves of my Life
John F. P. Hudson (John Francis Paige Hudson, after whom I gave M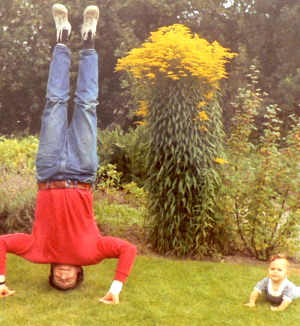 iguel his middle name of Paige: Miguel Paige Kline) and Miguel are shown here with a spectacular golden rod plant in the garden of Pat Ashdown Sharp's lovely thatched, Tudor cottage in Ludow: Pool Cottage.
John's wrist is bandaged because he had used his hands to compact the trash when he was putting out our dust bin. I'd thrown away a broken glass coffee pot.
I wondered if it was a subconscious suicide attempt. Just before that I'd falsely told John I was pregnant, to see how he would be. I so did not want him to be like my father. John was excited, then so disappointed when I said it wasn't true.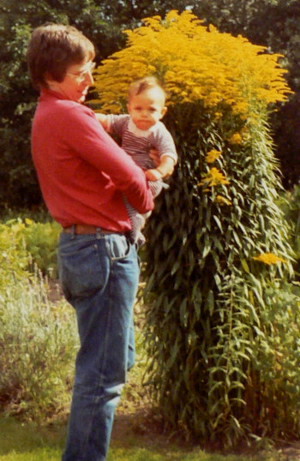 John called Miguel "Muggins." John said it was a word used to refer to oneself, in a sort of humorous way.
When Miguel was a baby I thought his little shock of hair made him look like an American Indian with a Mohawk. I thought he had a timeless, thoughtful, wise look.
One of my most embarrassing experiences ever happened that weekend: when we had arrived and after Miguel was sleeping, John and I were playing Scrabble when I spelled Goast… Seriously. John asked me what I meant. It took me a moment to snap. Then I felt that I must have looked so incredibly ignorant to John.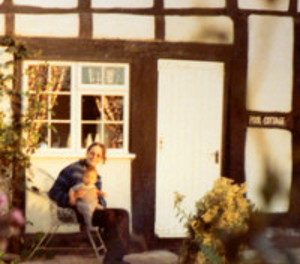 Spelling aside, my hair looked as if I was totally ignorant of the value of visiting a hair saloon.
And, would Miguel not have had his American Indian shock of hair if I had had a proper hair cut?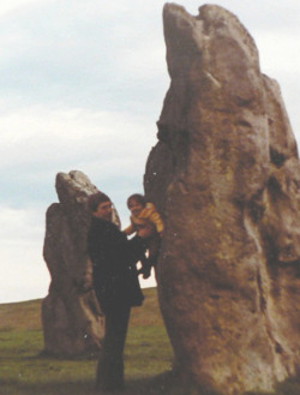 Another weekend John took us to Marlborough, where he had gone to boarding school, and Avebury to see the standing stones. It was an interesting time in Avebury because Sudbury Hill was being excavated in the belief that an ancient king would be found buried within the man-made mound.
The Museum had lots of bits and pieces and a cafeteria with minimal fare at the back.
Avebury is one of my favorite places in the world.
(John said many believe Merlin was buried in Marlborough, and that in fact that's where the town's name came from.)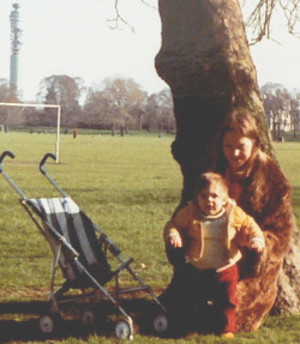 John took this picture of Miguel and me on Hampstead Heath or Parliament Hill. I love the Post Office Tower in the background: its address was a classified secret — revealing it was treasonable, as I remember it. But, there it was when you looked at the skyline… so, how secret was that?
My coat is perhaps the most beautiful I have owned. I bought it from a lady whose husband was a New Mexico governor or senator, I forget. I rented a room from her when I was waitressing in Albuquerque before I moved to London. I think her home has an historical plaque now.
The coat was blond beaver and so lovely warm. But having Miguel and not being married I could not say, "Beaver," when someone asked me what kind of fur it was, so I put the coat out for the dustbin men, who gathered round discussing it for some time before they actually took it.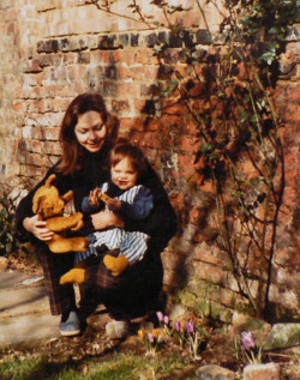 Miguel and me with his Teddy Bear in the garden on Sudeley Street. I loved the brick work that was done one time and another. I loved the way it displayed age with a singularity of purpose.
When I finally went to a hair saloon and had my hair cut, John didn't notice. So I went and had it cut again. Still John didn't notice, so I made an appointment at Selfridges's saloon and had it cut again. That night John looked at me, looked at me again, and with a curious look on his face asked, "Is your hair getting shorter?"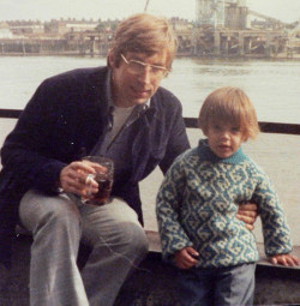 I cannot tell you how much I loved John. I think one reason I love Korean dramas now, is that the romantic male characters most often have hair cuts like John's in the photo above. The picture was taken some Sunday afternoon at a pub somewhere along the warf on the Thames.
I knit Miguel's sweater. It's a yin yang design that I chose, for which John wrote the pattern. John really seemed to be able to do anything.
There were so many good times that it's hard to believe how much I cried from the time my mother said never to return to Wisconsin.
I tend to think my relationship with John was doomed from the time my mother wrote me saying I'd never been any good. I was so shocked I left the letter lying on John's desk. His parents came from Jersey (the Chanel Island) to visit, and found the letter.
They had read Teihard de Chardin's Phenomenon of Man because it was my favorite book and they wanted to be able to discuss it with me. But after they read the letter, nothing was ever the same. The thing is, if I had not lied to John about being pregnant, to see if he was like my father and therefore not to be trusted in terms of family, I think John would have found the way through.
After I lied there was no way of turning back, of telling what John was like, had there not been the lie. After the lie, he turned out to indeed by like my father. Or…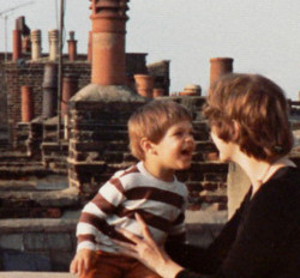 Miguel and me on the Sudeley Street roof patio. Miguel is sitting on the wall of John's row home. You can see a series of walls behind him. Each row home is one room wide, plus the width of the entrance hall.
John had our roof changed from the typical two sloping surfaces to one flat surface where we could have plants and sit out. I loved the London chimneys when I first arrived, and love them still.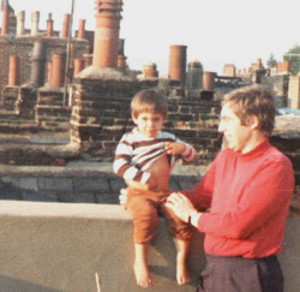 John was my first love. I met him in Monterey, California while he was in a think tank. He's John F.P. Hudson, the English topologist who wrote Piecewise Linear Topology. He was so excited about me coming to England to him, to have Miguel.
John was great with Miguel. (John once teased, "Never tell a woman you love her or she'll show up seven years later, pregnant.") I wish I had not cried so much after I had Miguel and my mother wrote that I was never to return to Wisconsin.
John suffered from depression, and had been attracted to me because of my sunny disposition. My constant crying was hard on him and we broke up. Though I tend to say we broke up because he was an Atheist and I was a Pantheist.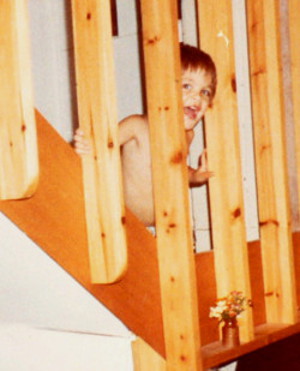 The stairwell was reframed with new dry wall when John had central heating put in. After the new dry wall was up I missed the openness of the bare framing wood, so I asked John to have the workers remove the drywall. John did.
I remember the puzzled look on the worker's face as he made his first claw hammer swipe at the fresh dry wall he'd put in only a day or so earlier.
But, it was great to have the extra light from the windowed door on the landing shining into our basement dining room.
You can see that Miguel loved it.
Later, when I learned that John was seeing Laura I sat in the kitchen and threw an i ching. I was sure it would define Laura as a family wrecker, but instead it ascribed Family to her and John. I went, with my son, to my friend, Sue Buik, across the street.
I know that Laura lied about me, saying that I kept calling her place of work and refusing to leave my name. If I had called, I would certainly have given my name, but I didn't call. Perhaps she was seeing another attached man, besides John.
In any case, I am sure that what I am doing now is what I was meant to do: To make the importance of B12 to health known to as many people as I can. I loved John so much, but at the same time, given my childhood, I don't think it was possible for me to have a happy relationship.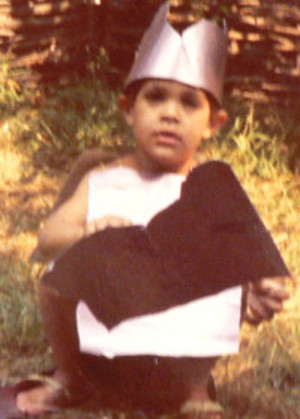 Miguel made his armour and played with it a lot. He was very proud of it. The black at the front is his shield, it would have been the shiny pink, too, but the reflection made it appear black.
When John and I were breaking up, I found that John had thrown the armour away, I was so sad because I knew then that John didn't care about Miguel's feelings. Or so it seemed.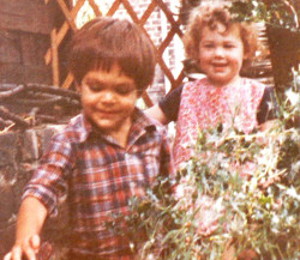 Miguel and his friend Sophie Dean in the holly at the back of our garden.
Sophie was amazing to me because her "baby talk" was in long paragraphs with all sorts of inflection. (Her mum read Russian newspapers for the Foreign Office, and her dad, Malcolm, wrote for the Guardian until recently.)
Malcolm once brought me a single red rose, when Miguel and I were living on Goswell Rd.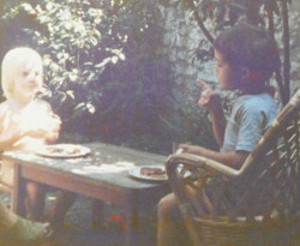 Miguel and Ciannait having lunch at Ciannait's house.
Ciannait's mum, Virginia, was my ideal English lady. I remember babysitting at their home (we were in the same babysitting club) and reading a book about plants and which windows they liked, that is, on which side of a room: east, west, etc.
Turned out Virginia grew up with a nanny on Park Ave. New York.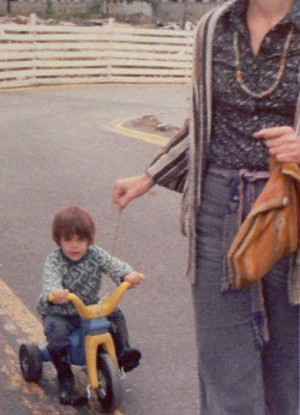 Miguel rode his tricycle all over London. I had a rope tied to it and pulled him along relatively quickly after we got off the red London bus.
This picture was taken by John at the warf when we were visiting the Lighthouse Ship.
In the West End, like on Oxford Street, it was very crowded so that no picture taken there would have shown the tricycle so clearly.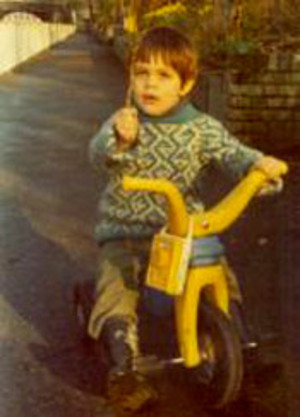 When we walked along Regent's Canal at the bottom of our street, we didn't use the rope.
The arch at the top left of the photo is Danbury Street Bridge. Beyond it is the lock for this section of the canal.
Miguel used to draw quite complicated things, like the lock, and after a visit to the British Museum or the Victoria and Albert, I forget now, he drew a Flintlock gun that he had seen.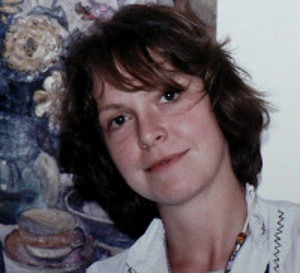 This is my favorite picture of myself. It's me without bleached blond hair, living on Sudeley Street with John and my son, the me that I was so close to allowing to develop.
My mother had always wanted me to bleach my hair, and I tended to do that. "Blonde's have more fun." Here I look wistful for the contentment that was so close, but elusive.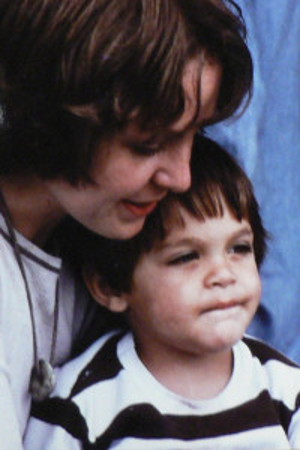 I used to tell Miguel stories about everything. When he was tiny and in his pram I used to name everything he would be seeing as we walked along, "tree, sky, blossoms". I thought that would help him learn words. I was thinking of how my mother told me that my father and his brother and sister didn't speak any established language, like Polish, German, English, when he went to school because their parents were too busy on the farm to talk to their children, and quick to the bedroom at night.
Once at a silversmithing class a woman asked me if my husband was a barrister because my son talked so well.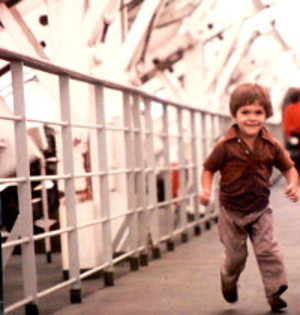 Miguel running on the deck of the Hovercraft when John took us to France for a camping holiday. It was a completely lovely holiday.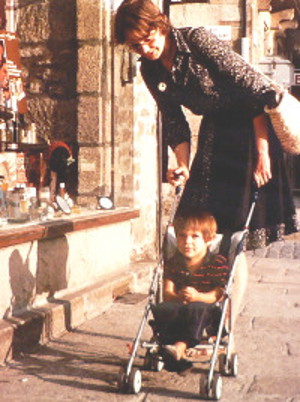 I bought my outfit at John Lewis, thinking it looked French, or at least right for traveling in France.
We're in front of a store that sold perfume, as I remember it. It seemed a perfect place for a picture taken in France.
The bead I'm wearing is a Pre-Columbian jade bead from a find in Mexico sometime in the '60s. A fellow on Lincoln Avenue in Santa Fe had a whole box of different beads that he wanted to sell me for $20. I thought it too much, so I sorted through and bought this one and a few others for a lesser amount of money.
I was always so frugal…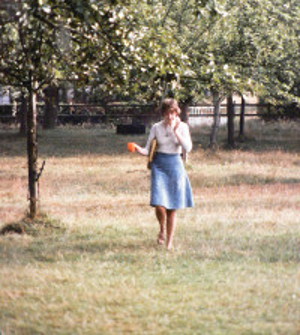 Walking in a French farmyard on my way back to our tent.
When I look at this picture I think I might have been beautiful, though it wasn't how I felt.
Once, as John and I were on our way out for an evening he said, "People are going to wonder, 'What is that old man doing with that beautiful woman."
To me, he was so good looking. I thought it such an odd thing to say.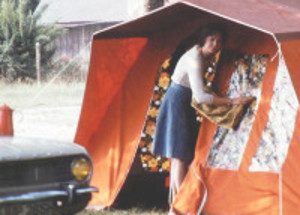 I loved camping in our three-room tent. In this picture it was morning in the French farmyard and I was pretending to be washing the windows. (Back in high school in Stevens Point, Wisconsin, Jim Cooper had said I was most likely to put curtains up even if I was living in a… I forget, but something or the other from a John Steinbeck novel. Jim Cooper was a much more voracious reader than I.)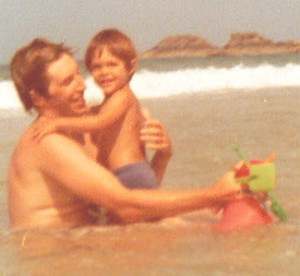 Then we drove to the coast and spent a day on a beach.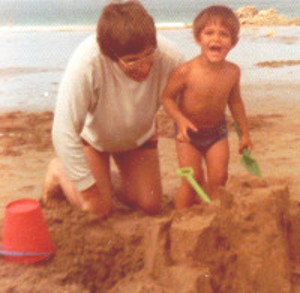 John and Miguel (mostly John) built a sand castle, much to Miguel's delight.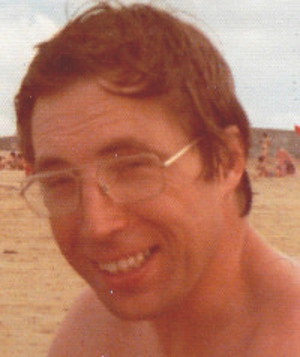 Gosh, I loved John so much. I used to watch him sleep: I loved the goodness I saw in him.
When John wrote to me and I received the letter at home in Stevens Point, my mother said, "What would a man like that want with you?"
My mother had not been allowed to marry the Jewish man she loved and subsequently married my father, who agreed to convert to Catholicism. But he consistently deserted, and … he abused me when I was very little. My mother blamed me. She wrote to me in London, saying I had never been any good. John's parents found the letter and no longer saw me as they had before.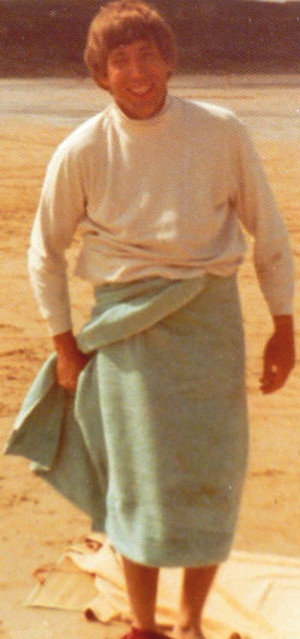 This is John changing on the beach.
John changed so much later, so much that it was hard to believe it was the same man.
When we broke up, he told me that if I got a job to take care of Miguel and me that he would match my income for a year. I think he actually said he'd give me half his income for a year. One or the other, but I think the later.
Despite crying much of the time because I didn't think I'd ever find another man as good as him, I got job after job, but always the Home Office would contact my employer and say I had to be replaced with an English person.
In time a barrister I met at a silver-smithing class organized for me to have an "adjudication" with the Home Office. As a part of that I got to see the dossier they had on me, and in it were letters from John turning me in for working illegally each and every time I'd gotten a job and written to him about it.
I think that is the most deeply shocking thing I have ever experienced. After that I would wake up at night confused about where I was.
When John had asked me to come to London, to live with him and have my baby, he had written about truth and beauty, and I had so believed him.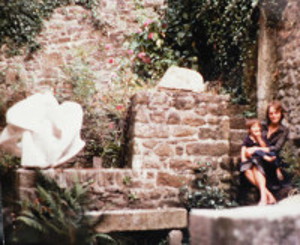 I'm not sure where this was, but I'm sure I asked John to take the picture. I loved the idea of stones, art, ivy at one with the stones, Miguel and me, and enduring.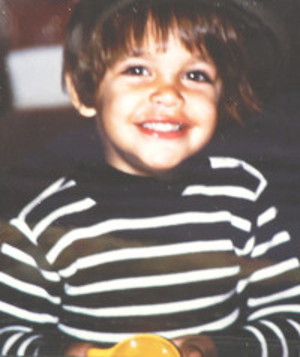 This is Miguel back in London, wearing his French fisherman knit sweater that we bought in Brittany.
Miguel was so great, when it was very cold and I'd be grousing about it, Miguel would say, "Don't say that mummy. Say, 'It's nice and cold!"
He drew a whole series of pictures in which there was a small thing that he identified as what kept it all together.
When John and I broke up, it wasn't all together anymore and that wholeness of happiness was diminished.
Or, maybe it was when I couldn't keep a job because John kept turning me in for working when I was an alien.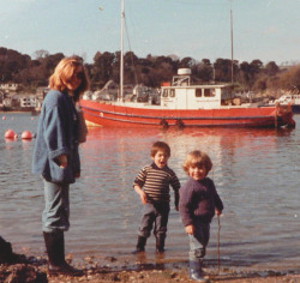 Just before John and I broke up, Miguel and I went to Cornwall with Susan and Barney Buik, who lived across Sudeley Street from us.
We stayed in Diamond Cottage in Polruan, and took the ferry across the estuary to Fowey each day.
I wish this was a better picture of Sue. She did the Times Crossword every day and loved Theatre and to read. She had grown up in Malaysia where her dad headed up the British tin interests. In her childhood pictures there were monkeys and exotic birds.
Barney: If you visit this page, my "big" site is health-boundaries.com with 2k visitors a day.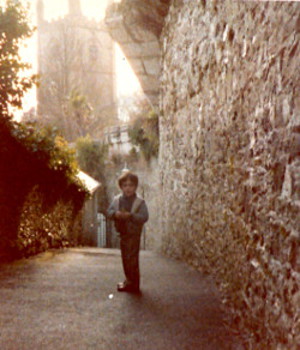 Miguel with Fowey Church in the background.
The village is hilly and there are stairs everywhere. The custom is that young people mustn't pass on the steps or they will never marry. They must wait at the landings for the other person to proceed. I was told the custom by someone who must have noticed I had no wedding ring.
Miguel's favorite place next to the beach was the passage way where a toy store had the first Play People we ever saw, and which I bought for him. He especially loved the "Baddie Heads" that were displayed in another store: colorful, ceramic heads of pirates and seafarers to be hung on a wall. Miguel would say, "Let's go see the Baddie Heads."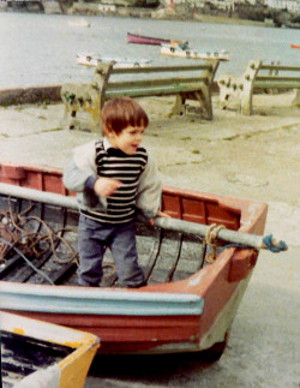 Miguel loved the Fowey beaches and playing in the boats that lined them.
We went back to London on April 1st. I found John getting ready for a date with Laura who lived next door to Myrth, his sister. April Fool's Day.
It was so painful, I didn't think anything could be that painful.
I threw an i ching, asking about Laura, thinking it would tell me she was a home wrecker, a terrible person. But it gave me the hexagram for marriage. Earlier it had said
that I should not leave. Perhaps it was a fork in the road and I should not have gone across the street to Susan's. Perhaps if I had not left, John would have chosen to stay with Miguel and me.
But overall, I think my childhood negated my ability to be happily married.
My brother, Kevin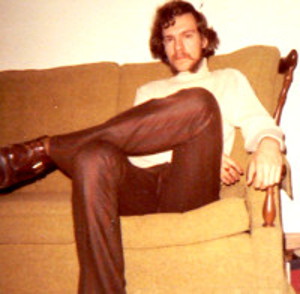 Kevin John Kline, my brother, is seven years younger than me. I bought him a typewriter the year Mom said not to come home for Christmas. When I lived in Santa Fe I sent him lots of silver Indian jewelry and art.
When mom had to go to work I took over cleaning ~ that was my after school program.
Later I worked in the same newspaper stand as my Mom. Mom said Kevin couldn't work there because the girlie magazines wouldn't be good for him. She didn't seem to mind that men were buying them from me.
Kevin wrote me once in the nine years I lived in London. When I was back he wrote asking for the value of the Indian things because they'd been stolen and he wanted the insurance.
On the corner of Goswell Rd and Friend St
Miguel and I lived with Susan and Barney Buik for a while. Miguel woke up every day saying, "I go see John." It made me desperately sad. I tried to explain to Miguel how sad it made me because John wasn't in our lives any more. So the next day Miguel woke up, sat up in bed, and said, "I no say I go see John." Heart wrenching.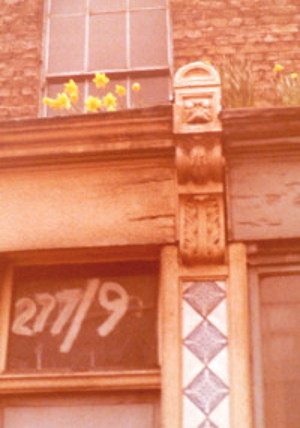 Then I found a flat at 277 Goswell Road, just a couple blocks away but in an industrial area. London Industrial Diamonds and a florist were downstairs. Upstairs, above our flat, was vacant. There you could see the sky through a hole in the ceiling, which is the definition of derelict. The building was owned by the Worshipful Company of Brewers.
The daffodils are outside our living room window on a shallow balcony.
Our flat extended over three ground level buildings, so it was a lovely large room. (Previously it had been a sweat shop.)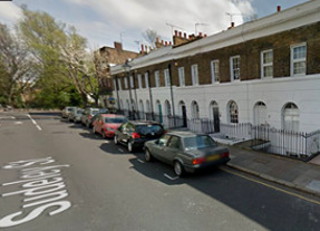 Prior to the derelict building on Goswell Rd., Miguel and I lived on Sudeley St. an historic, preserved street with Regent's Canal at the end where you see trees ~ first at number 8, the white door in the picture. When we lived there the door was red.
Sue and Barney Buik lived across the street. Sue very kindly let us live with them until we moved to Goswell Rd.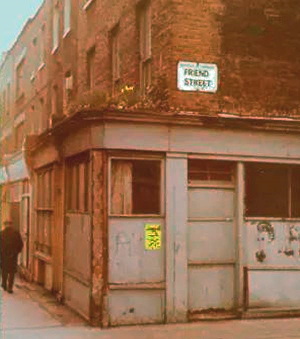 This is the side view of our Goswell Road home. The street sign says, "Friend Street."
The three windows above the balcony are to our flat. They were floor to ceiling windows in the Georgian style. I hung cream colored army blankets, from my friend Virginia, for drapes.
At first I painted the whole place black and brown: Otter and Tobacco. The walls were Tobacco, and the woodwork was Otter. The colors reflected how I felt.
In a year or so I wallpapered with Shinto paper from Habitat, basically it was cream with a light green design on it.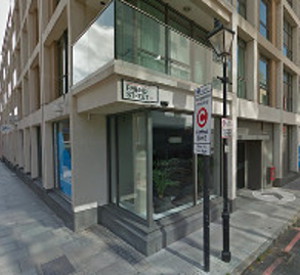 The old building was torn down. I wonder if this was built immediately, or if this is a second build since we lived there.
Sadly it looks as if the heavy framework shades the windows.
I used to look out the window, while typing Slater Walker for the Sunday Times, thinking how great it would be if the window stuck out, to catch the sunlight.
I loved a truck that sometimes went by, emblazoned with the name, Miss Morgan and Son Trucking.
Friends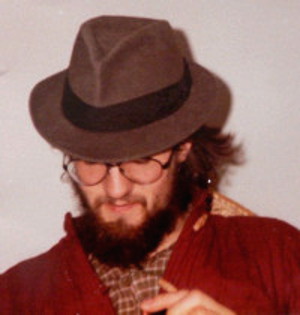 Greg Toulman, a friend of ours, introduced me to Hitchhiker's Guide to the Galaxy, which story he was able to tell in the order of occurrences, if not recite perfectly. He was quite amazing to me!
When I was back in Santa Fe and going to the races with Ron Bond, who wanted to be a professional handicapper, there was a horse running one day whose name was My Friend Greg. I wanted to bet on the horse for old-times sake, but it was going off at 30Â to 1. In fact, the horse won.
I thought it was the universe telling me that Greg had indeed been a good friend. (Greg said his family had helped Galileo hide, back in an earlier time.)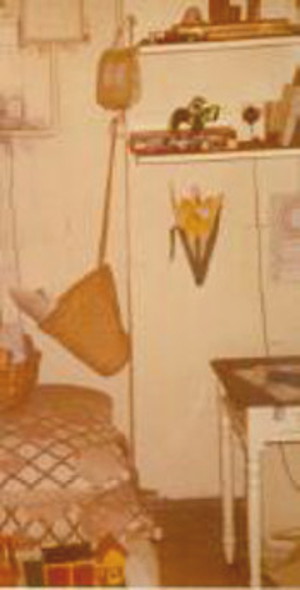 The shelves above my typing desk were put up by our friend John Barry, managing editor of the Sunday Times.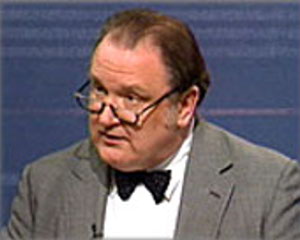 I don't know why I didn't include in the photo the IBM Selectric John arranged for me to use to type Slater-Walker by Charles Raw. John went on to Newsweek in the U.S. Pieces by John Barry.
A rather fun John Barry Read: The Casey Exception.
By hiring me to type the book, John provided for Miguel's needs that required money. He paid me "under the table" because I hadn't been successful getting the Home Office to allow me to work.
I used to buy nearly as much CorrectoType as I did paper; when the book was published, I had a nightmare in which the reviews said what a good book it was except for the massive amount of typographical errors.
Our Goswell Rd. ~ Friend St. Flat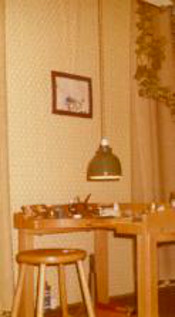 My workbench was under an old light fixture on an ancient, weighted pulley. The matted art on the Shinto wallpaper is by Miguel. You can see the blanket drapes provided by my friend Virginia.
When I wanted the workbench, after I had seen it in Hatton Garden, I just wanted it so much. I thought and thought about it. It's very beautiful, in addition to being useful.
While I was wanting it so much, I got a phone call one day for the very shop at which the work bench was. The shop's number was not at all like mine, so I think the call must have been in response to my strong thoughts sent into the universe.
Actually, I seldom had a phone during those days. When someone broke in, there was no way to call for help, so I grabbed my bracelet mandrel and ran at him, scaring him away (back out the kitchen window).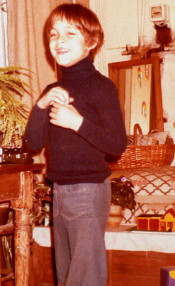 Miguel on Goswell Road, with one of his Lego constructions behind him. He was always building something. There were usually extensive construction sights on the living room floor.
For living in a "derelict" building, our flat was pretty nice.
Alan Feldman, a stamp dealer from Camden Passage, helped me get the flat livable. It had been a sweat shop, so there were sockets for the sewing machines running along the walls, and overhead there were dangling fluorescent light fixtures. Alan took out the fluorescent lights for me. I had such a crush on him. One night after he took Miguel and me to Pizza Express on Coptic Street, Miguel asked him to sleep with his mummy. I was abashed, and made Alan leave nearly immediately.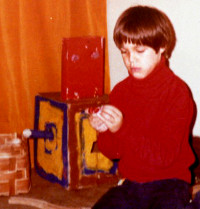 I don't remember what the painted box with what appear to be handles was. Miguel had elaborate creations that he worked on for long periods of time.
In this picture he's playing just in front of his bedroom, out of frame. The gold on the left is a thick corduroy curtain that Virginia Low gave us, and which I used to cover the permanently locked door to the next part of the building.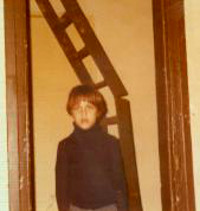 Our loo on Goswell Road was upstairs and just beyond this little room with ladder. The watercloset ceiling had a hole through which you could see the sky. That is what made the building "derelict" by definition. Miguel did not like the facilities at all, as you can see from his expression.
About a year after this picture was taken a huge fern or fungus began growing on the wall above the hand basin in the watercloset. I wish I had photographed it. It was amazing.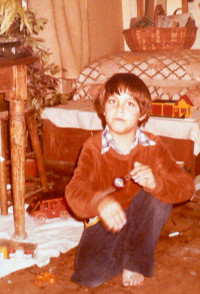 The whole time Miguel went to play school on Mechlenburg Square he had a ride to school every day from one of the other mums.
When he started proper school nearby our Goswell Rd. flat I walked him to school, only I often failed to get him ready on time and I often let him stay home.
After we got to know the truant officer, Ian Short, who was a wonderful man, I bought Miguel a watch to help him keep time so that he would help me get him to school.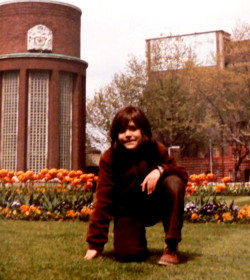 When we lived on Goswell Road our bus stop was across the street from the Islington Water Department (round tower) and Sadlers Wells Theatre on the right in the background.
The spring flower displays all over London were always beautiful. (I was once told that the reason London has so many squares filled with flowers is that they were sites of mass burials during the plague, so that making gardens of them seemed appropriate as time went on.)
Miguel's school was very near here, also.
The Silversmithing part of my life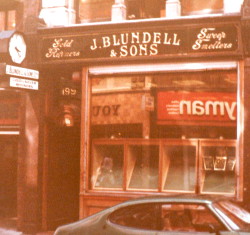 J. Blundell was my favorite place to buy silver and gold to use in my smithing. It was near Oxford Street, rather than in Hatton Garden, as I remember it.
Once I needed some gold for bangles and they didn't have quite what I needed so they said they'd send it to me. Sure enough this package of gold that I had not paid for arrived, delivered to my door in the derelict building, and I was billed. It was totally amazing.
Another time the amount of gold I needed was as much as all my money, and I must have blanched because the young fellow waiting on me said I'd better have some of his chocolate. He broke off a bit and gave it to me.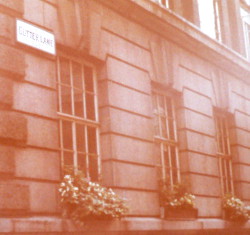 The Assay Office in Goldsmith's Hall, where I took my silver work to be hallmarked, is part of the Worshipful Company of Goldsmiths on Foster Lane. I reached the Assay Office via Gutter Lane.
Sue Buik recounted a story told her by her father who had become a solicitor (lawyer) when he was 69 after returning from Malaysia: Coopers Lybrand Accountancy Firm, having some scandal problems, asked the City of London to rename Gutter Lane, where they were located, to Coopers Lane (barrel makers being an old and time honored profession). The City politely refused.
And then we moved ~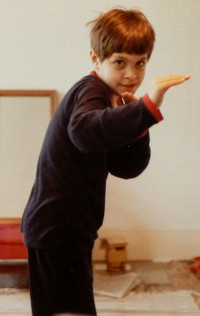 From Goswell Road we moved to a lovely, sun filled Georgian Council Flat on Stonefield Street. It was perfect except that the downstairs neighbors appeared to be National Fronters, much disliking foreigners, and Mr. G., the man between them and us, appeared to have Ahlzheimers or something that caused him to be violent. He would pound on our door saying he was going to break in and kill us.
When Mr. G. died the police brought us a lot of our mail that he had in his flat. I felt so sorry for him because the National Fronter people had been very mean to him despite having gotten him to give them his bit of the garden.
After he died I felt Miguel was safe in the house, before that I had been terrified that Mr. G. would actually break in.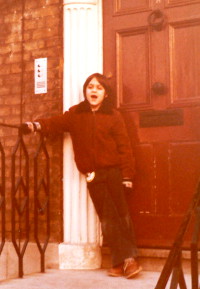 This is Miguel outside our downstairs front door. He really liked the flat, and if not for our less than friendly neighbors things would have been SO good.
One day when Miguel and I came home from me picking him up at school there were thick, black carpenter's pencil marks drawn all over the hallway walls. Another time Orange Squash was splashed all over the walls. I was pretty sure Mr. G. was doing it to make it look as if Miguel was a problem child and we should be made to move.
The sound of Miguel jumping out of bed in the morning made Mr. G. furious and he would pound on the ceiling.
When I planted flowers in a tub on the landing of the stairs to the garden they were dug up with great gouging finger prints left behind.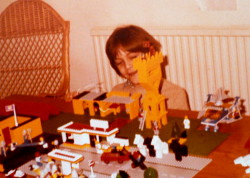 Miguel had a lot of Lego bricks by this time; he continued to love to build with them.
He's playing on a library table I found at some "junk" store and refinished. (It is a great sadness of mine that the sound of the sander must have been horrible for Mr. G., and perhaps that's where his extreme reaction to sound began.)
Or, perhaps it existed long before we moved in. I was told that he had stomped so hard on the floor that the ceiling light fixture in the flat of the National Fronters had fallen.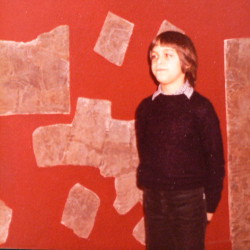 This is Miguel at the British Museum. He was with me under protest, and therefore not entirely happy. I expect I'd gotten him to come along by means of a promise of Pizza Express on Coptic Street, nearly across the street from the British Museum.
Miguel's expression looks as if he's thinking about the pizza, and hoping it comes soon, or maybe it won't be worth the trouble of having to traipse with me through the antiquities.
I paled without Miguel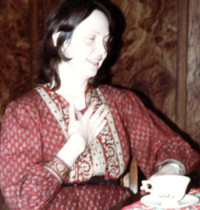 I didn't know how I was going to get back to the United States with Miguel, but after I dreamed that I swam back despite my fear of water, I knew that I, if by myself, would indeed get back.
Miguel was "in care" and leaving without him was physically draining. On the plane the stewardesses thought I had fear of flying because of how I looked, and they kept bringing me water and things.
This picture was taken by Marcia at her and her husband Dick Bell's house in New Hampshire. I had flown in to Boston. I remember how absolutely happy it made me to see fire hydrants again. (They don't have them in England.) Just not happy enough to bring my color back.
I do not know how I would have gotten back without Marcia Bell nee Mueller.
If only I'd known about B12
There were many times in London when people would comment on how pale I was. Usually it was after I'd had a terrible time bleeding with my period. It would be so bad I couldn't leave the house. My mother had had a hysterectomy when she had extreme hemorrhaging with her period. I didn't even consider that. I had my son to take care of and no family to help out.
But the worst part was the way my nerves caved under the stress.
My son and I could have had a far different life if I'd known about B12 and been able to get replacement and keep my levels up.
For instance at one point I was offered a job at the American Embassy. I knew how often I wasn't well and I didn't accept because I was pretty sure I wouldn't be able to last. There were just so many days I could barely make it through.
Now my website helps people who experience the difficulty of their nerves and blood laying them low, so to speak, when vitamin B12 could help enormously, if only they knew about it. So, better this in the long run, than a moment of "glory" working at the Embassy.
Back in Santa Fe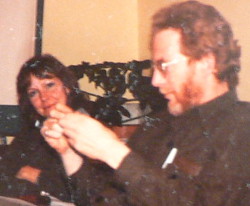 When I returned to Santa Fe I worked as evening desk clerk at La Posada. The night auditor, also in this picture, was my nemesis, expecting me to be as good at figures as he.
For a long time I did all my wash by hand, saving my quarters that I would other wise have had to spend at the laundromat until I had enough to buy a skirt and blouse.
My favorite moment was checking in Stephen Spielberg who was so young I could not believe it was him; I made him show me identification. Plus, I kept saying, "I can't believe you're Stephen Spielberg. You're so young." To which he replied the second and third time I said it, that he'd heard that before. But kindly, not mean. When after searching through his duffle bag for identification, without success, he pulled out his toothbrush and said, "See, Stephen Spielberg's toothbrush," that convinced me, since who else would have his toothbrush. After that I saw how a part of his brilliance is communicating with people on their level.
My Grandmother Kline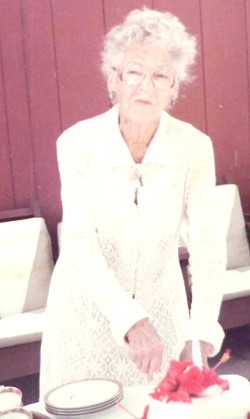 My grandmother Kline, Gladys, survived her husband by several decades. When she died the $30,000 that had been left to me by my Grandfather Kline went to my father. So, I didn't see it for a long time, except in the gratitude I feel to my grandfather for remembering me. My hope that in the end I would not be left out was fulfilled.
I for sure hope I can keep my home and garden, because I used a lot of the money for roof and new batteries for my solar electric.
It was Grandmother Kline's great, etc. great grandfather, John Robinson, who led the Pilgrims out of Scrooby, England.
Me as a Realtor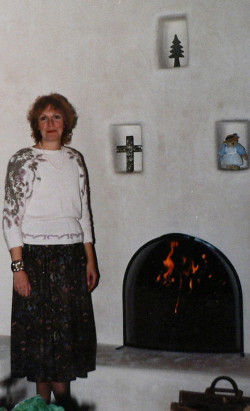 After working at La Posada I sold classified ads at The New Mexican, then sold and produced yellow pages ads for the alternative Phone Book, and then sold ads on the trolleys. The trolley people didn't pay me my commissions and I was extremely poor for about a year, then I decided to sell real estate since that was more regulated and I would be safer in terms of being paid the commissions I earned.
In this picture I'm standing by the fireplace in a listing of mine on Camino Santander, in the Canyon Road area of Santa Fe.
I loved selling real estate and tended to be the top producer in my office. I worked long hours, almost all weekends, and seldom took any time off.
I would hand write picture postcards of my listings in the belief that the more clearly I thought about them, the more likely it would be that someone would call on my ads.
My first year I made $5,000, then the next year I slept on the office sofa and house-sat for several months when I didn't have money to keep my apartment. Finally, by saving the money I would otherwise have spent on rent, I had the money to buy my condo and what a trip that turned out to be: it had been built over a full outdoor toilet pit. There was hydrogen sulfide inside. Read more.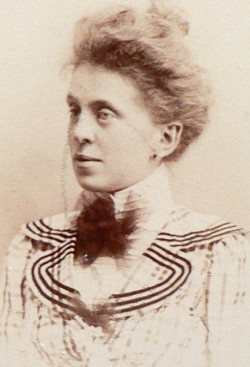 There were so many people that I loved working with in their search to buy or sell a home. Maud Henon, a weaver of tapestries, originally from Belgium, was one of those who added a sense of miracle.
For a long time I have wanted to do a page about Maud Henon, and I now have. I wish I had more examples of her work to illustrate what an amazing weaver she was. She told me often that she wanted to leave work that would make her children (or perhaps she had only one son, I forget) proud of her. Maud Henon ~ Read more.
Gosh, I really loved being a Realtor! (even with all the hard work and sometimes disappointments, not to mention the long spells that sometimes occurred between commissions).
Finally one day I was sitting at my desk, writing a check for my car payment, when I realized that finally, and for the first time in years, I did not have to worry about money.
I traded a fur coat for these IRS signs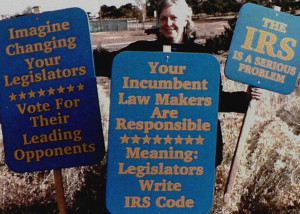 I was completely wrong about it being the end of my money worries because IRS began levying me for 1984 which I had paid in 1985, and in time IRS put me out of business. Read more.
I traded a fur coat I had used when showing land for these signs which I put up in a series on Siringo Road where there is a lot of traffic.
The same legislators were voted back in. Sigh. However, in time Congress enacted some measures to reduce abuse of taxpayers by IRS.
I wrote about a thousand letters, literally, while I was trying to bring about reform of the IRS.
I did not write as much creatively but I had my novel, and I wrote to Princess Diana about that (talking about my experience as I wrote).
At that time I received a response to about 3 letters of every hundred I sent out.
Usually a response came in three or so months if I had written to someone well known. I completed my letter to Princess Diana on December 27, 1996 and posted it. Princess Diana's letter in reply is dated January 8, 1997. Read letters.
Roots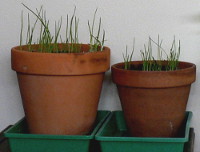 The pictures on this page show a kind of family root system.
Roots make a tremendous difference to development, at least in some plants, and I suspect in many, if not most people.
Above you see two pots of Egyptian onions, planted on the same day in soil that is about the same in each of the two pots. But the pot on the left is deeper and therefore allows more roots to develop. You can see how much larger the onions are in the pot on the left where they appear to be thriving with their larger root systems. Plus, I pulled all the largest leaves from the pot on the left to use in my brown rice. I pulled none from the pot of the right. Had I pulled no leaves from either set of plants the difference would be even more dramatic.
Aunts and Cousins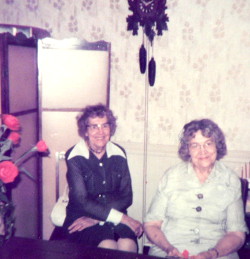 Twins, Anna Skalski and Margaret Golomski, were Grandpa Ambrose's sisters.
The picture was taken at Aunt Anna's, not far from Grandma and Grandpa's house in Stevens Point.
Aunt Margaret had a general store in a little town, whose name was Polonia, I think. Polonia, Wisconsin ~ Read more.
But, maybe it was Custer, named, according to general consensus, after Lt. Col. George Armstrong Custer, who was defeated during the battle of the Little Big Horn in 1876. The Custer post office was established in December, 1876 just six months after the battle of Little Big Horn.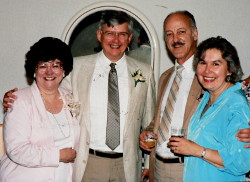 Marcie, on the left, is Aunt Anna's daughter. She's with her husband Bob Kolacki. On the right is Arlene, who is Aunt Margaret's daughter. She's with her husband, Paul Zie.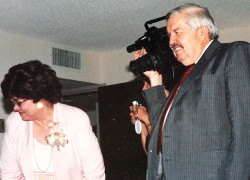 Marcie, again, and Bill Golomski, Aunt Margaret's son.
Bill was a statistician and had a newsletter on Quality. He traveled all over the world with his work and, for quite a long time, used to call me regularly, once I was back in the United States. It was he who told me, before I began my novel, that writing three pages a day was the best way to accomplish a complete work. I did that, and I must say, it worked very well. (Though my novel is incomplete because I didn't understand some of what I was writing about.
Note:Â I put most of the pictures on this page after Miguel wanted to know about his family.