Maud Henon, Weaver Extraordinaire
How I met Maud Henon
I had tried very hard to sell a home that had a studio attached, but I had been unsuccessful. One couple I had been working with for a long time, bought a different property from another Realtor who told them I wouldn't mind…
On my birthday, December 2nd, I received a call from a woman who said her name was Muud, that she had my card from when I'd shown her home, and would I please come over and talk to her about listing her home.
I could not work out what her name was, and I was terrified that by mimicking what I thought I heard her say I would say something offensive. Nevertheless I trekked the path of mimicking.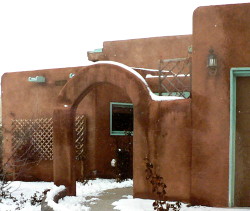 When I arrived at Maud's home I saw that it was the one I had wanted so badly to sell, and I was So excited and happy.
Now, I wish I had taken far more photos than I did.
Maud interviewed me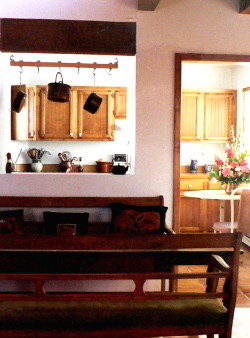 We sat at her table and talked in a way that I had never before encountered while listing, or being interviewed with a view to list.
Maud asked me who my favorite writer was, to which I replied Victor Hugo.
She then asked me if I knew who Sartre was, only it was really hard to know who she meant because of her accent. I replied that Sartre had said Hugo was his favorite author.
And that, I think, is why she chose to list with me.
Maud Remembers
Maud wasn't well and was reading from her well worn Gastronomique to find things that might enable her to regain her health. Thereafter she began to bake yams for herself.
On Thanksgiving I took her a plate of turkey and trimmings that I had made, and we talked.
Maud told me about having lived in her home country of Belgium during the war and how the worst thing she had ever seen in her life had been a woman who was hanging from a church steeple, apparently having been blown up there by an exploding bomb, and the woman's unborn baby was hanging from the umbilical cord.
She also told me about her family and how they had been influential in Belguim.
Maud's Weaving

And, she talked about her weaving. Maud explained to me that her loom was a traditional tapestry loom, called a Haute Lisse loom.
Now that I think about it, I wonder if she gave me a book of her work. The fact that I wonder makes me think that she may indeed have done so.
I will have to go through my boxes of things and see if I find a book of that sort, produced for a gallery showing.
I hope I can find it because the photo I took of her living room does not show her tapestry.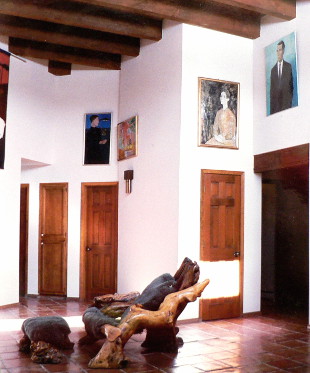 Only the tiniest sliver of her wonderful tapestry of geese is visible on the upper left of the image.
I think I will be able to show her paintings by enlarging them from my photo. I hope so.
Maud's chair was totally amazing to see, and very heavy. It looked so alive, so strong, so much a part of the earth. Maud's chair seemed as if it would have had the strength to keep the bad memories away.

Maud's Art
I'm sure Maud told me who she had painted in this work of hers, but sadly I can't remember.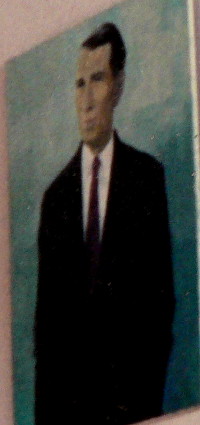 Neither can I be sure that she said the man was her husband, but I think that is what she told me.
I wish that I had taken more photos, or, if I took more photos, that I find them.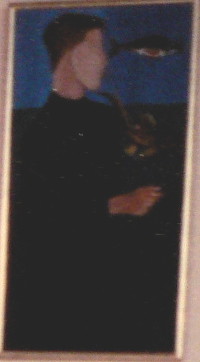 Because of Maud's love for her family and her frequent references to them, I wonder if this is her son. I don't remember what she told me.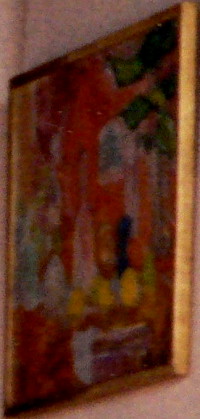 Maud painted huge canvases of the images she would then make into tapestries. There was one in the garage, of the geese in the tapestry in the upper corner of the picture of her living room.  I very much wish I had asked her for it.
Maud Henon's Copper Pots
I loved Maud's copper pots, which I should have mentioned closer to the picture of them.
Maud said one of them was over 300 years old. I was amazed! One day she told me to take it home so I did, and I admired it for several days before I took it back. I didn't want her to think I was taking it on her.
Much later I realized that she had given it to me.
Maud also gave me a quite wonderful recipe for pork roast. She said she gave it to a gay fellow and told him to use it to make a meal for the man he loved, and when he did the man would fall in love with him because it was that good.
As I remember it, she reported that it had worked exactly as described.
Maud Henon's Recipe
Here is Maud Henon's recipe for pork roast so good it will cause love for the cook to blossom:
Take four large, whole, yellow onions and place them in an earthen ware roasting pot, or any roasting pot that is not particularly large.

Salt and pepper the roast and place it on top of the onions.

Put the lid on, hopefully so that it is tight fitting.

Place in the oven at 350 degrees and bake for four hours.

So simple, but so amazingly AMAZINGLY good!!!!
(The love part of it didn't work for me, perhaps because the man I made it for didn't actually come for dinner. Yes, stood up. But, sometimes that can turn out to be a blessing.)
Yes, I sold Maud Henon's house for her. She went back to Belgium where she had complete health care coverage, and died a few months later. Someone from the home/hospital called me to tell me.